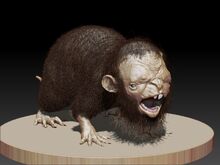 Brown Jenkin is a rat-like creature with a human-like face who is a familiar to the witch Keziah Mason and a secondary antagonist of H.P. Lovecraft's short story "The Dreams in the Witch-House ".
Brown Jenkin is "a small white-fanged furry thing", "no larger than a good-sized rat", which for years haunts the witch house and the town of Arkham in general, "nuzzl[ing] people curiously in the black hours before dawn". The creature is described: Witnesses said it had long hair and the shape of a rat, but that its sharp-toothed, bearded face was evilly human while its paws were like tiny human hands. It took messages betwixt old Keziah and the devil, and was nursed on the witch's blood, which it sucked like a vampire. Its voice was a kind of loathsome titter, and it could speak all languages.
Ad blocker interference detected!
Wikia is a free-to-use site that makes money from advertising. We have a modified experience for viewers using ad blockers

Wikia is not accessible if you've made further modifications. Remove the custom ad blocker rule(s) and the page will load as expected.