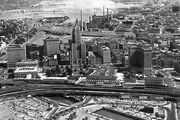 Providence is Lovecraft's home town and is the capital and the most populous city of the U.S. state of Rhode Island, and one of the first cities established in the United States.Located in Providence County, it is the estimated third-largest city in the New England region.
The area which is now Providence was first settled in June 1636 by Roger Williams, and was one of the original Thirteen Colonies of the United States.

Links:
Full article on Providence:[1]
Ad blocker interference detected!
Wikia is a free-to-use site that makes money from advertising. We have a modified experience for viewers using ad blockers

Wikia is not accessible if you've made further modifications. Remove the custom ad blocker rule(s) and the page will load as expected.