Shudde M'ell (The Burrower Beneath) a mile long great grey chanting worm creature that releases odd acids. It burrows through the earth, melting all rocks in its wake. It is the supreme regent of the Chthonians.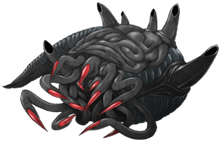 Ad blocker interference detected!
Wikia is a free-to-use site that makes money from advertising. We have a modified experience for viewers using ad blockers

Wikia is not accessible if you've made further modifications. Remove the custom ad blocker rule(s) and the page will load as expected.