"In the tunnels of that twisted wood, whose low prodigious oaks twine groping boughs and shine dim with the phosphorescence of strange fungi, dwell the furtive and secretive zoogs;"
-H.P. Lovecraft, Dream-Quest of Unknown Kadath
The zoogs are a race of sentient forest-dwelling creatures that inhabit the Dreamlands of Earth. They are mortal enemies of cats, as they prey upon kittens and are preyed upon in return by adult cats.
Randolph Carter enlisted the aid of the zoogs during his quest for Kadath.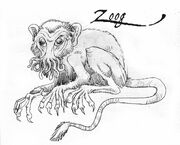 Ad blocker interference detected!
Wikia is a free-to-use site that makes money from advertising. We have a modified experience for viewers using ad blockers

Wikia is not accessible if you've made further modifications. Remove the custom ad blocker rule(s) and the page will load as expected.